Biography
Jazz vocalist Sarah DeLeo takes the best from the masters and combines it with her own signature style to produce a sound that is both timeless and fresh. One hears her singing and is swept away to another time, and yet her powerful presence as a musical storyteller is thoroughly in the here and now: No matter the song, she delivers each lyric in such a personal way that the listener feels as if they are hearing their own stories. Her tireless exploration of many different styles of music yields fascinating results when it comes to song choices and arrangements, and her inventive melodic improvisation makes every restatement of a tune's melody thoroughly engaging — nothing's ever the same twice.
Sarah DeLeo hails from Waterbury, Connecticut, a city The New York Times referred to as one of "tight-knit ethnic neighborhoods." She grew up listening to a wide range of music, from Motown to Elvis, and from Linda Ronstadt to Donna Summer, and this broad spectrum of influences has clearly found its way into DeLeo's rich musical palette. She began singing at age nine, and was singing standards before she even started high school. She began by studying all the great singers: "Judy Garland, Barbra Streisand, Ella Fitzgerald, and Aretha Franklin — they had the greatest impact on me as a young singer," says Sarah. "I spent hours with their recordings listening and experimenting with my own voice. Eventually, I went beyond mimicking them to actually presenting my own style." She further studied the jazz idiom by listening exhaustively to the classics, taking in the recordings of legends such as Miles Davis, John Coltrane, Dexter Gordon, and Sarah Vaughan.
DeLeo attended Barnard College as an American Studies major, but always maintained her love for the music and continued performing whenever possible. While many of today's jazz musicians are products of the conservatory system, Sarah ended up getting her jazz schooling the old-fashioned way: in the clubs of New York. After college she began singing in jam sessions and in piano bars throughout Manhattan. Sarah explains: "I became a regular. I took advantage of any opportunity to listen, learn, and sing. Every time in front of the mic was practice, and I also found guidance from many of the musicians I met in the clubs."
One such person who provided invaluable guidance was singer/songwriter Lina Koutrakos. "Studying with Lina was amazing. She created an environment in which I felt comfortable to improvise and develop my skills as a lyric interpreter. I really began to come into my own as a performer during this period. When I started performing solo gigs, I incorporated all of these experiences." She has also studied with jazz musicians Jay Clayton, Dena DeRose, Giacomo Gates, and Kirk Nurock. Sarah's repertoire consists of jazz and pop standards from the 1920s through 1960s along with blues and contemporary tunes in the style of the old standards.
In October 2005 Sarah released her debut CD, The Nearness of You, which garnered critical acclaim and introduced Sarah's work to both national and international audiences. William Grim of allaboutjazz.com wrote, "This is a wonderful album that features a delightful voice, imaginative arrangements, and a group of musicians who perform with total musical cohesion," while Eric Cohen, Music Director of WAER (Syracuse, New York), proclaimed, "the girl can flat out sing!" Jeff Rossen of Gay Chicago Magazine enthused, "Sarah DeLeo delivers a delicious 10-track set that is as enjoyable as it is welcoming, with DeLeo's natural and unaffected performance charming us throughout." Across the ocean, Radio Antenna Uno (Italy) colorfully stated, "Ms. DeLeo wears her heart on her sleeve as she gently pulls you into her world. Her voice is like a light breeze on a warm spring day." The Nearness of You received substantial radio play throughout the United States and abroad, and has also been influential in the New York City jazz and cabaret scenes.
Her follow up to that release is 2009's I'm In Heaven Tonight, another inspired collection of songs that combines the old and the new. A number of the tunes on this disc come from the 1950's and 60's, but a stunning surprise is DeLeo's take on "In the Cold, Cold Night," a song written by the indie rock duo The White Stripes which she brilliantly mined for its bluesy essence and transformed into a thoroughly swinging jazz vehicle.
When asked if she feels a special affinity for music from the music of the 50's and 60's, DeLeo replied: "I always like to minimize the retro aspect of what I do, because for me art is about the commonalities of the human experience over time, and not about when a song was written. This album actually started as a bunch of disparate song ideas, and then when I looked at them as a group, I realized that they were all either written in the 50s or 60s or inspired by arrangement ideas popular at that time! That said, I think that the 50's and 60's were important periods for American culture, basically the art of the Empire at its apex. I suppose that given my artistic inclinations, drawing from the mid-twentieth century is pretty natural."
It should come as no surprise that Sarah has been compared to many legendary singers including Shirley Horn, Lena Horne, Peggy Lee, Julie London, and Sarah Vaughan. She has lit up the crowd with her natural charm and grace at venues such as Cornelia Street Café, Detour, and Rockwood Music Hall. Audiences are enraptured by her unique voice (once referred to as her "calling card"), her exquisite phrasing, and her heartfelt interpretations of ballads, which have been described as "beyond her years". Simply put, her sumptuous, satiny sound and crystal clear diction turn every performance, whether live or on disc, into an intimate and moving affair.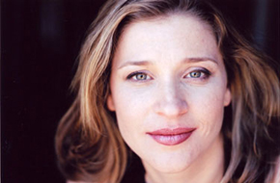 Judy Garland, Barbra Streisand, Ella Fitzgerald, and Aretha Franklin — they had the greatest impact on me as a young singer...
Follow me on: