Latest News and Press
Thank you for visiting my web site. There is a lot of information here, but for current updates please visit my Facebook and Twitter pages, where I am more active right now.


Thanks to everyone for their support and enthusiasm on the debut of my new project, "Look for the Silver Lining: the Judy Garland Fan" earlier this year. Your presence and emails were much appreciated!


I'm still looking to fit in a Christmas gig before then end of the calendar year. I will update all sites with information, if this falls into place.


Thanks again for visiting. Happy Holidays!


Albums

"...one you will come back to, and enjoy often..."

"A truly gorgeous vocal album...the girl can flat out sing!"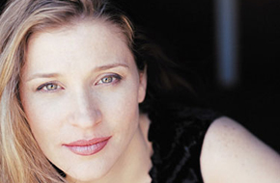 Sarah DeLeo is a contemporary jazz vocalist noted for ballads and music with a mellow "Peggy Lee vibe." Notable appearances include WNYC's The Greene Space, Cornelia Street Cafe, and the Iridium Jazz Club. She has been cited in The Jazz Singers: The Ultimate Guide by Scott Yanow, The New Face of Jazz by Cicily Janus, and the upcoming ninth edition of the Penguin Guide to Jazz .
Follow me on: